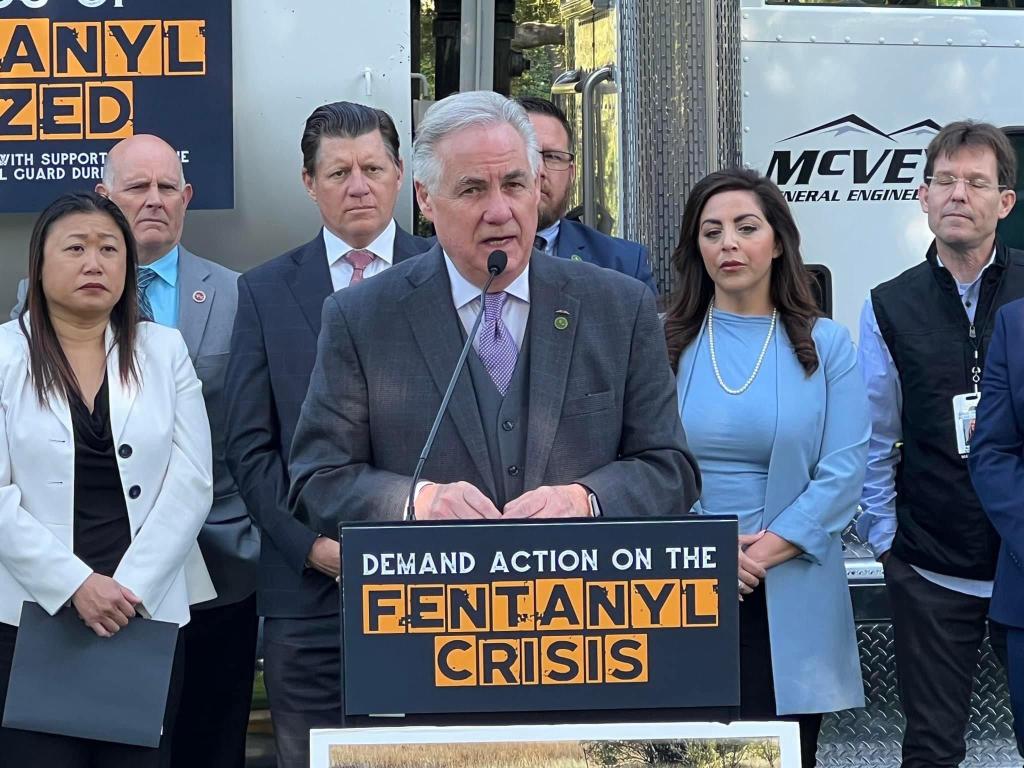 SACRAMENTO, CA (KMJ) – On Thursday morning, Assembly Democrats approved a special hearing of the Assembly Public Safety Committee to hear five fentanyl bills that they refused to hear previously.
Previously, Assembly Public Safety Committee Chairman, Jones-Sawyer, a democrat from Los Angeles, had announced that the committee would refuse to hear any more bills combating the fentanyl crisis.
Republican Assemblyman Jim Patterson's Office sent out a media release on Thursday morning, to announce a new development that came about after Tuesday's hearing.
Assemblyman Patterson spoke to KMJ's Ray Appleton on Thursday saying that there was massive media coverage during the press conference held Tuesday outside the California State Capitol.
They spoke in front of a dump truck that would hold up to 28,000 pounds to show the amount of fentanyl that was seized in California in 2022.
The press conference featuring the tragic stories conveyed by victims of their losses of family members to fentanyl overdoses.
The fentanyl epidemic is killing 500 Californians every month.
Patterson said reporters stood there on the lawn outside the Capitol, holding microphones in the faces of lawmakers to ask questions why the various fentanyl bills were not being heard.
The media coverage spread throughout the state.
Patterson said that changed the minds of legislators, there in Sacramento.
I'm thankful for the media, and I'm also thankful for the victims and, quite frankly, I'm also thankful that, in this particular instance, the hearts and minds of those in the highest leadership in this Assembly saw the light, and we're going to have the light turned on in that hearing room.

-Republican Assemblyman Jim Patterson
The hearing is now scheduled for Thursday, April 27, 2023, upon adjournment of session in room 126.
Assemblyman Patterson will present his bill, AB 1058, at that time.
The bills to be heard are:
Ahead of the hearing next Thursday, April 27, Republicans are urging Californians to contact the members of the Assembly Public Safety Committee to urge them to approve these bills.
The Republican members of the committee have pledged to support the proposals.
The contact information for the committee members is:
Chair: Asm. Reginald Byron Jones-Sawyer (Democrat)
(916) 319-2057
Vice-Chair: Asm. Juan Alanis (Republican)
(916) 319-2022
(916) 319-2018
(916) 319-2055
(916) 319-2034
(916) 319-2020
Asm. Miguel Santiago (Democrat)
(916) 319-2020
Asm. Rick Chavez Zbur (Democrat)
(916) 319-2051
Video of the announcement of the special hearing is available HERE.
Listen to the report by KMJ's Liz Kern.