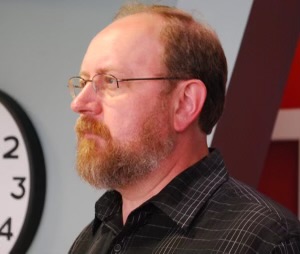 E. Curtis Johnson is the youngest of 8 children and was born and raised in northwestern Montana. He became interested in radio by listening to far-off radio stations at night.
Johnson started his radio career at the age of 16 in his hometown. In his senior year of high school, he did the morning show on his hometown radio station before starting classes.
Before coming to Fresno in 1989, he worked at radio stations in San Francisco's east bay suburbs, Ventura-Santa Barbara, San Diego, and Salt Lake City.
Though out his career he's also worked as consultant and brand manager for radio stations in Columbia South Carolina, Anchorage and Fairbanks Alaska, San Luis Obispo, Modesto, and Bakersfield California. Additionally, Johnson has been the group program director for two radio groups in Fresno.
In 2011, Johnson earned a bachelor's degree in business management from The University of Phoenix. He used that degree to leave radio and became a licensed nursing home administrator from 2015 to 2019.
He returned to radio in 2019 after his mentor made him an offer he couldn't refuse.
E. Curtis joined KMJ in March of 2023 to reunites with Philip Teresi. The two have known each other since 1997 and have worked together twice in the past.
E. Curtis is a devout Christian and has served as a Bishop in three different occasions from 2000 to 2020.
He and his wife have been happily married since 1985 and have three sons and eight grandchildren.