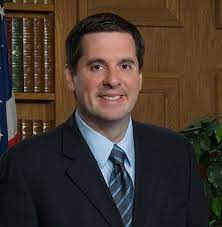 FRESNO, CA (KMJ) — KMJ host Ray Appleton breaks the news that Congressman Devin Nunes is retiring after from his term in congress in 2022.
The news was announced Monday during the Ray Appleton show, after Ray was in communication with Nunes.
Congressman Nunes telling KMJ's Ray Appleton that he'll be gone by the first of the year.
Nunes told Appleton that he will be taking a senior executive position with former President Donald Trump's new media group.
Rep. Nunes sent a newsletter to his subscribers saying he has been presented with a new opportunity but did not say what that opportunity is in the release.
I'm writing to let you know I've decided to pursue this opportunity, and therefore I will be leaving the House of Representatives at the end of 2021.
"I will deeply miss being your congressman," Rep. Nunes wrote. "It's been the honor of a lifetime to represent you, and I thank you for the trust you put in me through all these years. It's also been my privilege, as Chairman and then Ranking Member of the House Intelligence Committee, to meet with members of our armed services and our intelligence agencies throughout the world—I'm awed by the sacrifices these patriots make in service to their nation."

Rest assured, I have not, by any means, given up our collective fight—I'll just be pursuing it through other means.

-Congressman Devin Nunes
Nunes shared his plans, communicating with KMJ's Ray Appleton during Monday's show, and Appleton announced the news toward the end of his show.
48-year-old Nunes was first elected to Congress in 2002, and represents the 22nd Congressional District in Fresno and Tulare Counties.
Nunes was the top republican on the House Intelligence Committee during the Trump White House.
KMJ's Ray Appleton spoke to Nunes by phone Monday afternoon, after the broadcast and the congressman shared that he will be the CEO of the soon-to-be launched Trump Media Enterprise called Trump Media Technology Group or TMTG.
In a press release on Monday, Donald Trump said; "Congressman Devin Nunes is a fighter and a leader." Trump holds the title of chairman of Trump Media & Technology Group Corp.
Read the press release here: https://ir.tmtgcorp.com/news-events/press-releases/
"He will make an excellent CEO of TMTG. Devin understands that we must stop the liberal media and Big Tech from destroying the freedoms that make America great. America is ready for TRUTH Social and the end to censorship and political discrimination."

-Former President Donald Trump
Congressman Devin Nunes added, "The time has come to reopen the Internet and allow for the free flow of ideas and expression without censorship. The United States of America made the dream of the Internet a reality and it will be an American company that restores the dream. I'm humbled and honored President Trump has asked me to lead the mission and the world class team that will deliver on this promise."
Listen to the report by KMJ's Liz Kern.