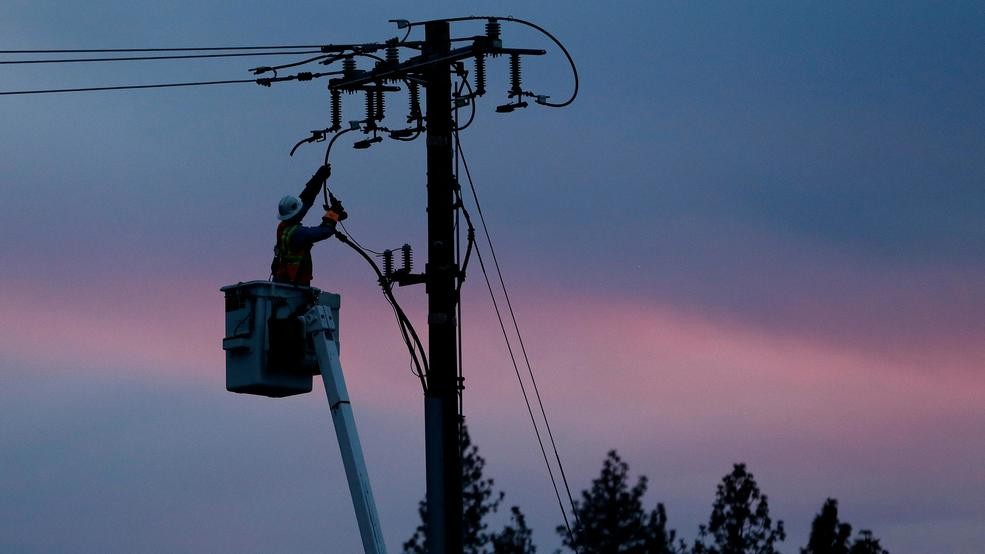 PGE RELEASE (FROM DENNY BOYLES): As you are aware, forecasters are calling for a storm producing significant wind and rain to arrive in almost all areas of our  service territory this weekend. While the forecast for Fresno and Madera is less severe than other areas, I wanted to give you an update on our preparations.
Our meteorology team forecasts that a significant early season atmospheric river will arrive in northern California early on Sunday and slowly advance south and eastward Sunday into Monday.
This storm will bring strong winds, heavy rainfall, and high elevation mountain snow.
PG&E's Storm Preparations
PG&E has been preparing for this storm. PG&E has a plan, and we will execute that plan. This includes the use of storm outage prediction models that help us determine the potential timing, location and number of power outages.
PG&E is utilizing the latest technology to help us restore power more quickly and efficiently after a storm. This includes the installation of automated equipment that "self-heals" the grid as well as timely and accurate outage data from our SmartMeter network.
PG&E has more than 350 crews and other resources on alert and ready to respond to outages as soon as they occur.
PG&E routinely practices its preparedness and response to storms and other emergencies through company exercises and through drills with local first responders.
PG&E's geosciences team is monitoring potential post-wildfire debris flows based on the incoming rains. This is to make field personnel working along the base of steep slopes and drainages within or below fire burn areas aware of changing land and weather conditions.
This debris flow watch applies to the River, McFarland, Caldor, Dixie, Monument, Glass, Kincade and CZU burn zones.
As of 12:30 p.m. today (Thursday, Oct. 21), PG&E has activated its Emergency Operations Center (EOC) to coordinate the company's storm response as well as 12 local storm rooms (OECs).
Storm Outage Prediction Model
Our storm outage prediction model is an effective tool to help us respond to power outages more efficiently. The tool utilizes a wealth of data sources to provide estimates on the potential timing, location and number of outages that we expect to see during a storm event.
Information from our outage prediction model helps us determine staffing levels needed for quick, efficient and safe power restoration before a storm arrives.
We use the model to pre-activate our local emergency centers and have employees on alert and ready to respond to power outages before the storm hits our service area.
We can also use the model to move our crews from one area to another ahead of time if it shows that one region of our service area will be more severely impacted. This allows us to pre-stage extra crews and bolsters our resources where they will be needed most before the storm arrives.
PG&E has a plan, and we encourage customers to have a plan, prepare for power outages and above all else, stay safe.
Customers can get updates on outages in their neighborhood through a variety of channels.
Never touch downed wires: If you see a downed power line, assume it is energized and extremely dangerous. Do not touch or try to move it—and keep children and animals away. Report downed power lines immediately by calling 911 and by calling PG&E at 1-800-743-5002.
Use flashlights, not candles: During a power outage, use battery-operated flashlights, and not candles, due to the risk of fire. If you must use candles, please keep them away from drapes, lampshades, animals and small children. Do not leave candles unattended.
Have a backup phone: If you have a telephone system that requires electricity to work, such as a cordless phone or answering machine, plan to have a standard telephone or cellular phone ready as a backup.
Have fresh drinking water, ice: Freeze plastic containers filled with water to make blocks of ice that can be placed in your refrigerator/freezer during an outage to prevent foods from spoiling. Blue Ice from your picnic cooler also works well in the freezer.
Secure outdoor furniture: Deck furniture, lightweight yard structures and decorative lawn items should be secured as they can be blown by high winds and damage overhead power lines and property.
Use generators safely: Customers with standby electric generators should make sure they are properly installed by a licensed electrician in a well-ventilated area. Improperly installed generators pose a significant danger to customers, as well as crews working on power lines. If using portable generators, be sure they are in a well-ventilated area.
Turn off appliances: If you experience an outage, unplug or turn off all electrical appliances to avoid overloading circuits and to prevent fire hazards when power is restored. Simply leave a single lamp on to alert you when power returns. Turn your appliances back on one at a time when conditions return to normal.
Safely clean up: After the storm has passed, be sure to safely clean up. Never touch downed wires and always call 8-1-1 or visit 811express.com at least two full business days before digging to have all underground utilities safely marked.
Go to PG&E's safety and preparedness resource page and our Safety Action Center for additional tips and information.