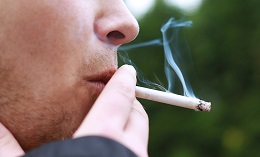 Fresno, CA- Council Vice President Nelson Esparza and Councilmember Tyler Maxwell announce that the Fresno City Council passed the Smoke Free Multi-Unit Housing Ordinance at Thursday's Council Meeting.
They say this ordinance will ensure that the City of Fresno renters living in multi-unit housing are protected the dangers of second and third hand smoke.
This ordinance was supported by a wide range of stakeholders including the Fresno Economic Opportunity Commission, Fresno Youth Commission, American Cancer Society, and the California Apartment Association.
The smoking ban would apply to multi-unit rental property that share at least one common wall with an adjacent unit and vents where smoke can travel and impact the health of people that live in nearby units.
The policy is expected to go into effect on January 1st, 2022.

"This policy is about protecting the health of our community. As someone that lives in multifamily housing, I personally understand how second and third hand smoke can have a negative impact on neighbors and residents." said Council Vice President Esparza.
"I am proud to champion a community oriented Smoke Free Multi-Housing Ordinance, prioritizing the health and safety of our children and most vulnerable residents. Our families deserve to live a healthy lifestyle regardless of where they live" said Councilmember Tyler