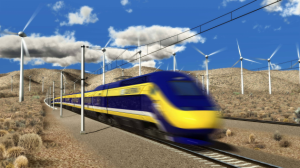 (KMJ) – Valley Democratic Congressman Jim Costa re-introduces a bill in the U.S. House to help fund California's High Speed Rail project.
His HR 867 is also known as the High-Speed Rail Corridor Development Act. It seeks to provide $32 billion to fund projects in federally designated high-speed rail corridors. That includes the Golden State's bullet train connecting San Francisco to Los Angeles via the San Joaquin Valley.
Of this legislative proposal, Costa says, "Now is the time to bring our transportation infrastructure into the 21st century and my bill will get the job done!"
But his proposed legislation comes as the state's High Speed Rail Authority continues to flounder.  It recently sought permission to tap into billions of dollars in California-voter approved funding to complete the 119-mile stretch of track here in the Central Valley.
And, HSR recently announced that very same Central Valley segment of the bullet train will NOT be completed until 2023 but now comes with a $13.8 billion price tag.