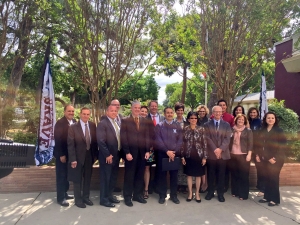 [Photo;FUSD]
FRESNO, CA (KMJ) – State Superintendent of Public Instruction, Tom Torlakson, joined Fresno Unified leaders at Tenaya Middle School to make the announcement of a new partnership for the district with California Health Sciences University and its pharmacy school.
The partnership will provide students with industry connections they will need as they pursue a health career at the district and when they graduate.
"By 2020, California's heathcare industry will add 500,00 new jobs statewide, 11,000 of those jobs will be right here in the greater Fresno area." -Tom Torlakson, State Superintendent of Public Instruction.
California Health Sciences University will reserve 20 seats for Fresno Unified students for the College of Pharmacy.
Click below to listen to the story by KMJ's Liz Kern: