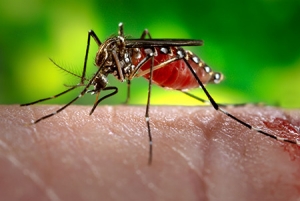 FRESNO (KMJ) — The vast amounts of rain we've all experienced in the Central Valley this winter, could be perfect for a boom in the number of mosquitoes.
Standing water is all the tiny bugs need to breed, and the recent storms of late means there could be a lot of it remaining out of site.
"We do ask the citizens to make sure that, if you do have any type of standing water, that you dump it out once a week," says biologist Chenoa De Freece with the Fresno Mosquito and Vector Control District.
"Make sure you pick up all your trash, because some trash can actually hold water, and that will breed mosquitoes."
She adds that it's up to us to ensure there are less places where mosquitoes could multiply, as it's a big public health concern.
"We will have a lot more water sources, and a lot more population areas, within our district that we can't quite get to.
"It really is the responsibility of the homeowners to try to tip over their water, make sure their yards are clean, pick up all their debris, because all these particular containers can hold water – and potentially can be sources of breeding mosquitoes."
The diseases local mosquitoes can carry include West Nile Virus, Zika virus, dengue fever, and chikungunya virus.
Hear the report from KMJ's Dominic McAndrew as it aired: