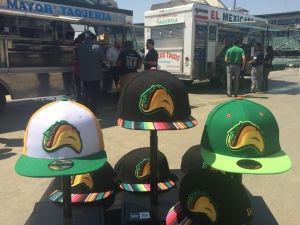 FRESNO, CA (KMJ) – The Fresno Grizzlies' Taco Truck Throwdown 6 is expanding.  The team announced on Tuesday that instead of the trucks being confined to the inside of Chukchansi Park, H Street in Downtown Fresno will be shut down to allow trucks to move outside the ballpark.
After having 25 taco trucks last year, the team is hoping to have 35 for this year's event, which will take place August 18th.
Fresno Grizzlies' General Manager Derek Franks says that the team literally ran out of room last year.  He hopes the expansion will set them up to branch out even further around the stadium over the next 5 years.
The night of the Throwdown the Grizzlies will also debut a new mascot – a taco named Cilantro Gomez.  He is not replacing Parker, but will work the crowd alongside the team's popular bear at "Fresno Taco"-related games and events.
The team also announced that the name of the People's Choice Award given out at the event will be named for Adrian Loza, a man who worked at the El Premio Mayor food truck (a staple at the event).  Loza died in January.