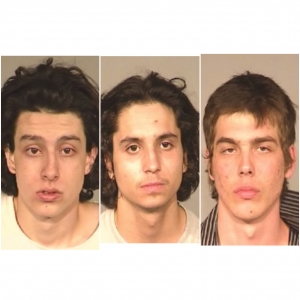 (KMJ) – Fresno Police say officers simply followed a trail of candy from the scene of a burglary to find those allegedly responsible.
Just before 2 a.m. Thursday, Officers were called to the clubhouse of the River Park Little League complex located near Fresno and Alluvial.  Neighbors heard a group of men arguing and called the police.
Once they arrived, Officers say they followed a trail of candy and other stolen items leading from the clubhouse area to the spot where three 18-year olds were standing.   The men – Wesley Moore, Devan Grothe, and Austin Jordan – were still in possession of what appeared to be stolen property from the clubhouse.
The three suspects were booked into the Fresno County Jail for charges of Burglary and Conspiracy. All of the stolen property was recovered and returned to River Park Little League.