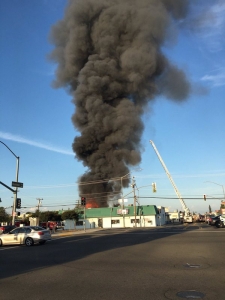 (KMJ) – Fire crews from Fresno City, Clovis and Fresno County all respond to battle a massive blaze at a Clovis auto body shop.
Just before 7 p.m. Wednesday, crews were called to Clovis Body and Paint on Barstow near Clovis. When they arrived a towering cloud of smoke streaming from the back of the building (as seen in this photo taken by Fresno Fire's Public Information Officer).
Crews say the flames had already ripped through the roof of the shop's paint booth and torched three cars and a boat. Fire fighters attacked the blaze from three different angles and kept it from spreading to near-by buildings.
The back of the building was completely destroyed but no one was inside the shop. The cause of the fire remains under investigation.