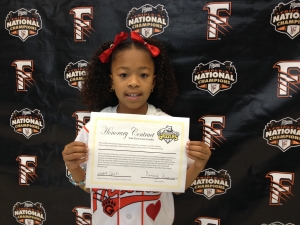 FRESNO (KMJ) — An attempt by the youngest business owner in Fresno County, to break the Guinness World Record for the number of books collected in 24 hours, is taking place in Fresno.
The record currently stands at 274,432 and non-profit Reading Heart wants to break that with the help the people of Fresno County.
"About the World Record, they can support me by going on my website readingheart.org, or they can deliver books the day of the event", says nine year old Danay Ferguson.
They're all being collected inside the Fresno Grizzlies' Chukchansi Park, between 3pm Friday and 3pm Saturday. The goal is to get 500,000 books inside the stadium.
"I'm 100% she'll do it", says Danay's father Dwayne Ferguson.
Once the record is complete, the plan is that all the books will then be given away to elementary students right across Fresno County.
"From March 18th and 3pm, until March 19th at 3pm, Chukchansi Park will be open 24 hours for book donations in hopes of breaking the Guinness Book of World Records", says the Fresno Grizzlies' Ray Ortiz.
The public is heartily invited to drop off books during the record attempt.