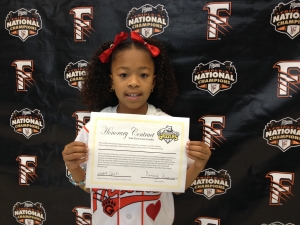 The Fresno Grizzlies have made a new signing, but this one is slightly younger than usual.
Founder of Reading Heart, and the youngest business owner in Fresno County, Danay Ferguson has the honor of being their 'Designated Reader'.
Inside Northwest Fresno's Forkner Elementary Tuesday morning, the crowd of school children were entertained by the Fresno Grizzlies' mascot Parker and the EECU mascot Eddie the Owl, with the excitement increasing exponentially with the furry pair's miming and dancing.
Danay Ferguson came up on stage when the duo finished. Her original reason for appearing at Forkner Elementary was to present a box of books for the students. It was on behalf of Reading Heart as part of the group's partnership with the Grizzlies' 'Wild About Reading' program, set to reach 100,000 students this year.
"So with that box of books, I have a challenge", announced Danay to the young group. "My challenge is that everybody in here gets to read one book. And when they're done reading that book pass it on to someone else".
But the Grizzlies' Ray Ortiz had a surprise for her.
"What we'd like to do today", he told the youngsters all gathered in the school's cafeteria, "is officially sign Danay Ferguson as an honorary member of the Fresno Grizzlies".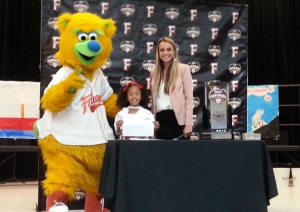 In front of the school children, with the Grizzlies' Whitney Campbell and Parker watching over her, Danay officially signed to become the team's 'Designated Reader'.
"It made me feel happy", said Danay after the signing. "I haven't done it before, I haven't been like a member of the Fresno Grizzlies'".
"It's so important because a kid can learn a new thing at the end of a book, and also use their imagination".
To celebrate the announcement, Danay will be throwing out the first pitch at the Grizzlies' game against Las Vegas on April 17th.