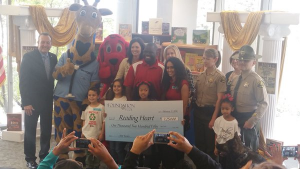 (KMJ) Fresno – KMJ has reported before on the remarkable 9-year old Danay Ferguson – who started her own business called Reading Heart – to distribute books to children in need..
Now, she's trying to break a world record for collecting books – with your help.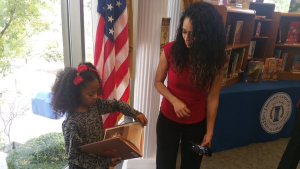 Reading Heart, in partnership with Scholastic Books and the Fresno Grizzlies is holding a 24-hour book drive from 3 p.m. on Friday, March 18 to 3 p.m. on Saturday, March 19 at Chukchansi Park.
In order to break the current record in the Guinness Book of World records, Danay must collect more than 275,000 books – but she says her goal is even bigger 500,000 books!
You are invited to drop off books at the event or donate money to purchase books at www.readingheart.org.
For every $5 raised, Scholastic will provide four new books to the drive.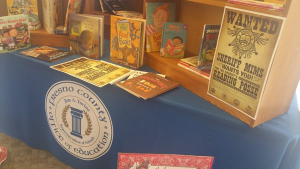 On Thursday, February 11th, she received some help from the Fresno County Office of Education and Superintendent Jim Iovino , who through their foundation gave her a check for $1250 which will provide for one thousand books.
Member's of Valley Children's Hospital and the Fresno Sheriff's Office were just some of the partners on hand to see her receive the check.
Danay's Reading Heart non-profit organization has already donated more than 30,000 books to Fresno County children.
Her goal is for every child in Fresno to have access to the joy of reading.