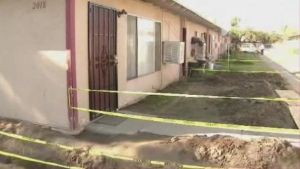 (KMJ)-  Tenants of Fresno's Summerset Village Apartments have filed a lawsuit against property owner Chris Henry.
The suit was filed Thursday in Fresno County Superior Court.  It contends the plaintiffs are all low-income residents of the Summerset Apartments and that the complex is unsafe, unsanitary, and in a serious state of disrepair.
Crews have been busy for weeks now fixing the exteriors of the two dozen buildings and the insides of the more than 200 apartments.
News of the lawsuit comes as Fresno City Manager Bruce Rudd releases a statement on the status of code violations at the Summerset Village Apartments.
Rudd says, "While we are encouraged by the level of repairs taking place at the Summerset Village Apartments, I am a long, long way from determining the final penalties for Mr. Henry's negligence. The City has incurred significant costs at this property and we need to be reimbursed."