Fresno (KMJ)  "The Gallows" doesn't hit movie theaters across the U.S. until July 10, but an invitation-only crowd of a few hundred valley residents got to see the much-hyped horror flick more than a week early on Tuesday night.
The special advanced screening came complete with a Hollywood-style "black carpet" walk by the young stars and co-directors Travis Cluff and Chris Lofing.  The young writers/directors and several stars of the film took time to pose for pictures and chat with the crowd, some of whom seemed star-struck.
"The Gallows" was written, produced and filmed entirely in Fresno, Clovis, Madera and Selma.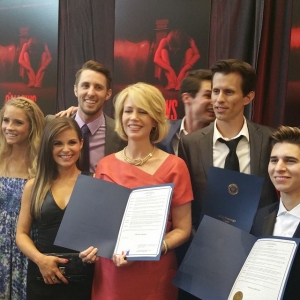 Mayor Ashley Swearengin was on hand to declare Tuesday "The Gallows Day" in Fresno.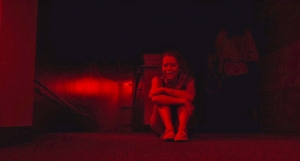 Cassidy Gifford stars
While not to give away too much, the plot involves four high school students, two of whom are are featured in a school play.  The other two don't seem to care much about the production.  However, there are those out there who are determined to see the play reach its culmination, no matter which decade it is or how much blood will be spilled.  There are plenty of scares and laughs to be had.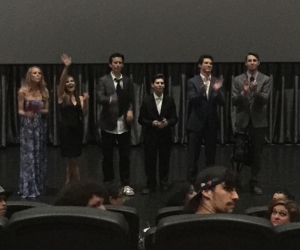 Travis Cluff, Chris Lofing of Tremendum Pictures are surrounded by the young stars, Cassidy Gifford, Pfeifer Brown, Reese Mishler and Ryan Shoos – on stage at Maya Cinemas-Fresno
At the end of the showing, the packed house at Maya Theaters gave the stars and directors a standing ovation.
Click here to watch the trailer
(IMDB.com)  20 years after a horrific accident during a small town school play, students at the school resurrect the failed show in a misguided attempt to honor the anniversary of the tragedy – but soon discover that some things are better left alone.