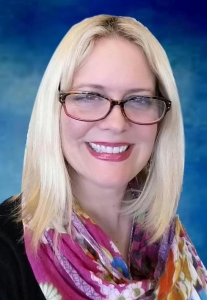 Liz started talking on the radio as a child in her hometown of Chicago. "I have always been a bit of a ham. Blame it on my dad (K9PGN) who let me chime in on his ham radio in the car. Continuing that love of media, she graduated cum laude from USC with a degree in broadcast journalism. Right out of college, she worked at KDBC, in El Paso, Texas. She anchored the nightly newscast, then took over the #1 rated Noon Show which she hosted for 10 years.
As a reporter, she covered the city and county government, medical stories and Designed for Women reports, she also championed animal welfare. "I've experienced traveling with Travis Tritt on his Texas road tour, raced zero to 300 mph in the "Shockwave" jet truck, fed stingrays at Sea World, joined the media in Hawaii for the movie premiere of Michael Bay's Pearl Harbor, and reported live from the International Bridges bordering Juarez and El Paso during 9-11."
When her husband had the opportunity to relocate to Fresno, Liz jumped at the chance of exploring a new city. For a brief time, Liz served as an Associate Editor at Fresno Magazine, then joined KSKS, before deciding to return to her love of writing stories with the KMJ News team.
Liz is very involved in the Fresno community, having transferred into the Junior League of Fresno, a volunteer organization that focuses on the welfare of women and children in Central Valley. She also served as a Fresno Chamber Ambassador, and assists in animal rescue with her Lost Pets of Fresno site. With KMJ, she hopes to cover the stories that will make a difference in the lives of people here in Fresno.
Liz and her Swiss-born husband are proud parents of two beautiful sons, and their home is inhabited by a pack of rescued animals. In their spare time, the Kerns like to ski at China Peak, bike in Woodward Park, and visit the Fresno Chaffee Zoo. Liz is still a horrible cook despite numerous cooking segments on the Noon Show. She is grateful that Fresno has a plethora of dining venues.