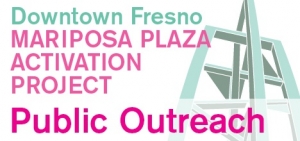 FRESNO (KMJ) — The people of Fresno will have a chance to tell the city what they think should be done with Mariposa Plaza.
The city has received a $150,000 grant from the National Endowment of the Arts to improve the space which sits next to downtown Fresno's Fulton Mall.
But they want to make sure whatever they do with it has the people's backing.
"Currently as it exists it has some challenges when there's events there", says Downtown Project Manager Lupe Perez. "We're looking to get input from the public so we can possibly come up with a redesign of that plaza".
So they're holding a public outreach meeting to get that input.
"The way it currently sits right now it's not very conducive to having some events and we want to create an area that's a little more inviting to the way it currently exists. So we'd like to also create a more vibrant and functional public space for everyday users".
But it's not just a redesign of the area as there are also plans to install something artistic in the space too.
"We're going to be doing a call for artists. We don't want to say this is what we want we want the community and the artists to come up with a new piece of art, an activation art. Whatever they would like to imagine and see".
The meeting itself takes place Tuesday evening on the TW Patterson building's mezzanine floor in downtown Fresno.
It takes place Tuesday evening between 5.30pm and 8pm and more details can found clicking here.