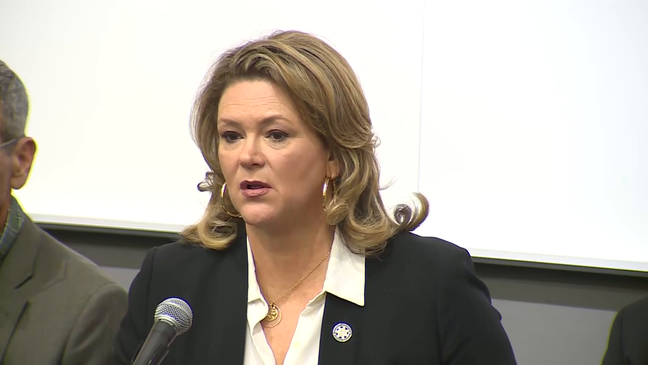 (KMJ) – Fresno County DA Lisa Smittcamp responds to an editorial by the Fresno Bee that she is playing politics, after a verbal parry makes national headlines, on the heels of a police officer's death by a felon.
On Wednesday, D.A. Smittcamp said the governor had blood on his hands, referring to the death of Selma Police Officer Gonzalo Carrasco Jr., who was shot and killed by a convicted felon with prior drug, and armed robbery charges.
"Governor Gavin Newsom, and every legislator in the state of California who supports this over-reaching phenomenon they try to disguise as legitimate criminal justice reform, has the blood of this officer on their hands," said Fresno County DA Lisa Smittcamp.
Governor Gavin Newsom responded during his news conference on gun reform on Wednesday, when asked about the DA's statement by a reporter.
"I'm sick and tired of being lectured by her on public safety — sick and tired. So, with all due respect to her statement, she should be ashamed of herself and should look in the mirror," said Governor Gavin Newsom.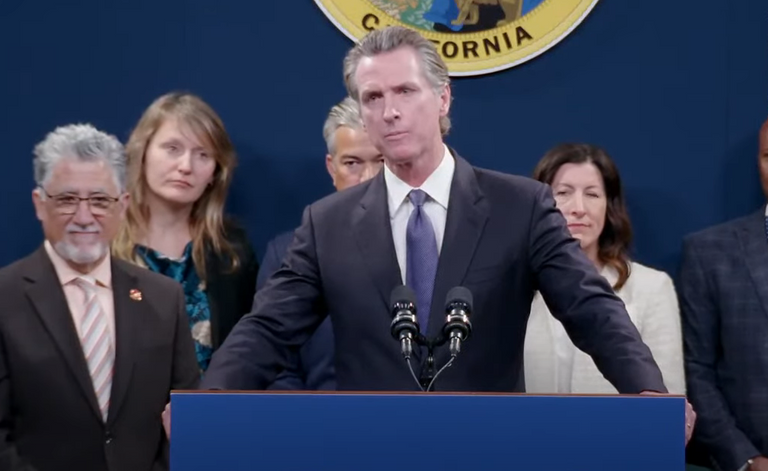 Gov. Newsom said that Smittcamp chose to make a plea deal with prosecutors, and did not charge 23-year-old Nathaniel Dixon to the full extent of the law, for his prior crimes which Newsom said would have ensured Dixon spent years in prison. The three felonies; carrying a loaded firearm in public, carrying a concealed firearm, and possession of a controlled substance while armed – were dismissed in one case. Another four felonies were dropped in a separate case.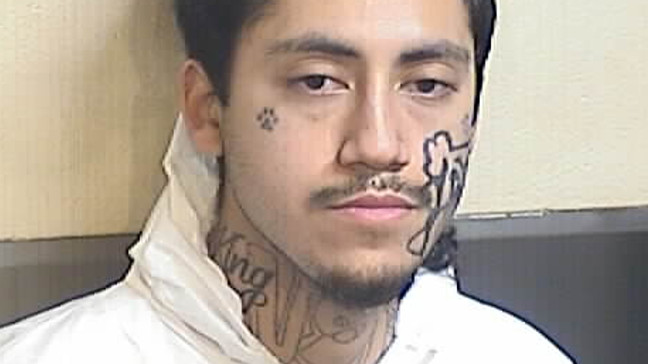 The fight between Newsom and Smittcamp made air-time in media seen across the United States. An editorial on Fresno County District Attorney Lisa Smittcamp and Gov. Gavin Newsom's verbal engagement was written about by a central valley newspaper, The Fresno Bee. The article indicating that Smittcamp was playing politics.
D.A. Smittcamp responded on Thursday to KMJ's Broeske and Musson Show, saying her hands are tied because of the state's criminal reforms.
"I would love to have the governor come down here. So maybe if he would start listening to some of my lectures, he wouldn't make so many mistakes," Smittcamp said, "He has no idea how the pushing of his own political agenda is causing havoc to people. It is costing police officers their lives. It is causing people to become victimized by guns and violence and theft and addiction and he doesn't want to do anything but blame everyone else."
On Thursday, Smittcamp told the hosts of KMJ's Broeske and Musson Show that she has repeatedly invited Governor Gavin Newsom to Fresno to discuss his policies and how it affects policing in the Fresno area, but so far, to no avail.
Listen to the report by KMJ's Liz Kern.
MORE: The Fresno County District Attorney's Office filed charges against Nathaniel Michael Dixon on Thursday for the murder of Selma Police Officer Gonzalo Carrasco, Jr.

The Felony Complaint filed in the Superior Court alleges that Nathaniel Michael Dixon committed:
• One (1) Count of FIRST DEGREE MURDER [Penal Code §187(a)].
• One (1) Enhancement of PERSONAL AND INTENTIONAL DISCHARGE OF A FIREARM CAUSING
DEATH [Penal Code §12022.53(d)].
• One (1) Special Circumstance of MURDER OF A POLICE OFFICER [Penal Code §190.2(a)(7)].
• One (1) Enhancement of MURDER OF A POLICE OFFICER [Penal Code §190(c)]
• One (1) Count of FELON IN POSSESSION OF A FIREARM [Penal Code §29800(a)(1)]
Nathaniel Michael Dixon also has a prior violent felony conviction (strike offense.)
If convicted of all charges and allegations, Dixon faces life without the possibility of parole or the death penalty.
The District Attorney's Office is currently conducting the necessary analysis on whether to seek the death penalty and will make an announcement on that decision at a later date.
Dixon was arrested on January 31, 2023, in Selma, CA, and booked into the Fresno County Jail.
The arraignment for the defendant is scheduled for February 3, 2023, at 8:30 AM in Department 31 of the Fresno County Superior Court.