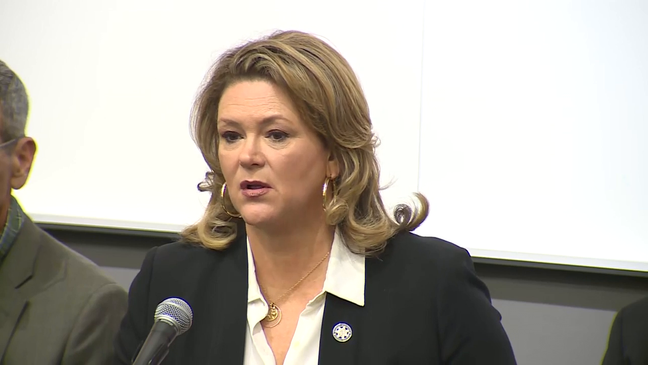 FRESNO, Calif. (KMJ/FOX26) — Fresno County District Attorney Lisa Smittcamp issued a statement following the death of a Selma police officer who was shot and killed by a convicted felon with prior drug, and armed robbery charges.
The officer was shot in the line of duty on Tuesday in a neighborhood near Eric White Elementary School.
According to the Selma Police Department, the officer was flagged down around 11:45 a.m. in the 2600 block of Pine Street.
That's when Officer Gonzalo Carrasco contacted the suspicious person who shot him several times.
The neighborhood and school were locked down while members of the Selma Police Department, Fresno County Sheriff's Office, and California Highway Patrol searched for the man.
The 23-year-old suspect was eventually located and taken into custody.
Officer Carrasco was taken to Community Regional Medical Center where he later died.
Fresno County Sheriff John Zanoni said the suspect is a convicted criminal that was out on probation through AB109.
Assembly Bill 109 allows for current non-violent, non-serious, and non-sex offenders, who after they are released from California State prison, are to be supervised at the local County level, according to County of Los Angeles Probation.
Sheriff Zanoni said the suspect is on probation for being a felon in possession of a firearm and has prior charges for drug possession and armed robbery.
District Attorney Lisa Smittcamp issued her condolences to the family and friend of the fallen officer and the Selma Police Department and said, "We must also focus our energy on demanding that our legislators do more to hold criminals accountable for their actions."
While honorably serving his community today in Selma, California, he was shot and killed in cold blood by a 23-year-old felon with no regard for human life.
"The shooter is an admitted gang member and has been arrested for several felony offenses that were prosecuted by the Fresno County District Attorney's Office for charges related to robbery, weapons, and drugs," Smittcamp said.
She said that he was sentenced to 5 years and 4 months in March of 2022 but because of recent changes to the law, he was released in September and placed on Post Release Community Supervision.
Governor Gavin Newsom, and every legislator in the state of California who supports this over-reaching phenomenon they try to disguise as legitimate criminal justice reform, has the blood of this officer on their hands.
"The Governor and certain members of the California legislature have created a warped system that allows active and violent criminals to receive arbitrary "time credits" in an effort to reduce the state prison population to reach their goals of closing more prison facilities," said Smittcamp. "Dangerous criminals are being released from our prison system by these accelerated and exaggerated time credits and numerous opportunities for early releases."
When they get out, they are empowered to continue and intensify their violent behaviors, as they have not had enough consequences or treatment.
"Tonight, in the County of Fresno, we have two families that are suffering loss. The family of the slain officer, and the family of the shooter who will now be facing murder charges. If the prison system did an effective job of "corrections and rehabilitation" this would not be the case," she said. "The Governor and his political allies who continue the quest to close state prisons are increasing the incidents of violence to everyone who lives in, or visits, the state of California."
No city or county is safe from the wrath of this misguided thinking, and this mismanaged prison system.
"How many more innocent officers and victims do we have to have before these politicians wake up and realize the destruction they have created? It is time to shine light on the truth of what is going on in the California prison system and make some real changes. It is time to return to a place of responsibility and accountability," she said.
by Stephen Hawkins/KMPH FOX26