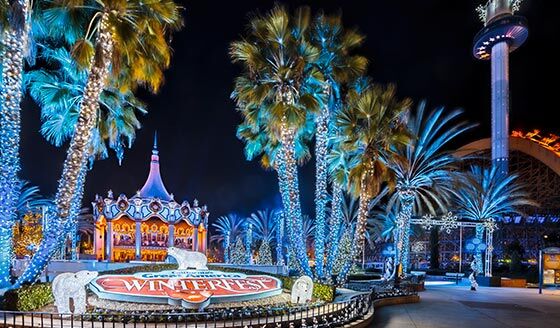 FRESNO, Calif. (KMJ/FOX26) – California's Great America amusement park in Santa Clara will close its doors about 11 years from now but another door is opening of possibilities to bring the first amusement park to the Fresno area.
Christopher Smith, a Valley native, says he hoping its owner/operators will relocate the rides and attractions to the Central Valley as part of a new amusement park.
"They sold the property and want to liquidate and move all the rights from that part to other locations. I'm starting a petition to try to get them to move the park's location the whole part to Fresno CA," Smith said.
Smith started a petition to convince the CEO of Cedar Fair to reconsider.
This was after the company said it wouldn't commit, explaining there is not enough interest to bring an amusement park to the Central Valley.
Smith wouldn't take no for an answer.
Smith is an expert in underground utility work and construction
He says he's working with a team of architects to plan out what would be called, The Heart of California Theme Park.
"We plan on doing 5 different themes to help incorporate California with a Gold Rush theme, a winery theme, a beach theme, ski theme, and we're hoping with the architect's design will help create more interest in the project, to show a possibility actual come true," he said.
Smith says according to Great America data, it brings in 19 million dollars annually.
Along with that, the project will bring new construction jobs for the build alone, more than 3,000 jobs annually for the amusement park, and more attractions to our locals and tourists.
"We have 3,000,000 tourists that go into Yosemite every year. We have over 2,000,000 tourists that come to Fresno International Airport every year. If we can just bring, you know that's 5 million people right there alone that are just visiting parks and visiting the local, local area that could be redirected to this amusement park," he said.
He and his team will be presenting its proposal to Fresno County officials soon.
He says one reason amusement parks stay away is the lack of available developed lands. Smith says it would be within the reach of Interstate 5, and Highway 99 and they plan for it to have direct access to the high-speed rail.
He says we have the land but he knows it will cost the city or county a lot of money to develop but will be worth it in the long run.
With each signature of the petition, he hopes he can prove to the company that the people of the Valley would love to bring it here.
If you would like to sign the petition, click here.
by Mayra Franco//KMPH FOX26