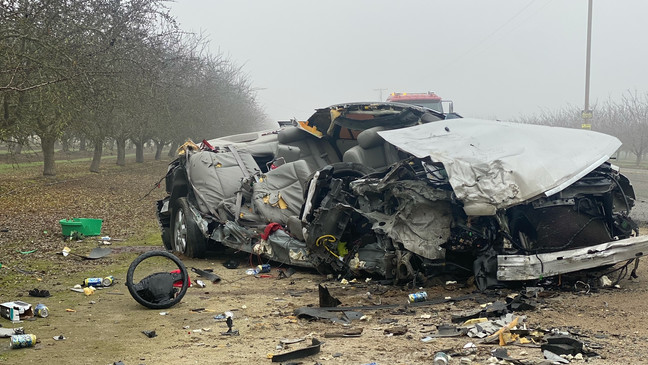 FRESNO, Calif. (KMJ/FOX26) — A man was critically injured after a crash in Western Fresno County Friday morning.
It happened around 10:15 am on Shaw Ave. at N Floyd Ave. near the town of Biola.
About 15 minutes earlier, nearby Central Unified School District canceled bus service because of dangerous foggy conditions.
CHP says the man driving the car attempted to pass slower traffic in heavy fog conditions with less than 150-foot visibility.
Driver of car passing slower traffic hits oncoming big rig in heavy fog in Fresno County (Photo: CHP Fresno)
The car was traveling westbound and entered the eastbound lane to pass and hit and sideswiped a big rig traveling eastbound.
The driver of the car was taken to the hospital in critical conditions.
The driver of the big rig was not injured.
It's unknown if drugs or alcohol were involved at this time.
by Stephen Hawkins/KMPH FOX26
Listen to the report by KMJ's Liz Kern.