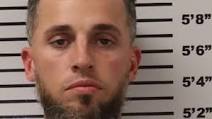 TULARE COUNTY, CA (KMJ/FOX26)- Tulare County sheriff's deputies say they think they've caught a serial robber and believe there may be more victims.
Deputies were called to a corner store on Avenue 196 near Highway 65 in Strathmore last Tuesday after an armed robbery happened.
Detectives identified the suspect in the armed robbery as Nicholas Parriera.
Deputies investigated another robbery on Sunday at a store on Springville Avenue near Highway 190 in Porterville also identified Parriera as the suspect.
They say they tracked Parriera down on Monday and arrested him for armed robbery and theft.
The Tulare County Sheriff's Office is looking for any other people or businesses that may have been robbed.
If you have any information, you're asked to call the Tulare County Sheriff's Office at (559) 782-9650.
by Stephen Hawkins/KMPH FOX26