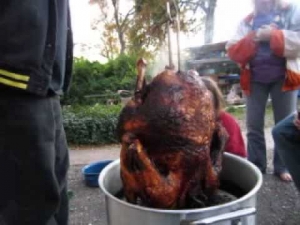 FRESNO, CA (KMJ) – Thanksgiving is the busiest day across the nation for fire departments.
Fire departments respond to about 4500 calls involving cooking fires.
Fresno Fire says across the nation, cooking fires involving turkeys cause 27 million dollars in damages each year, and is the number one cause of cooking fires.
FEMA says each year, from 2017 to 2019, fire departments in the United States responded to an estimated average of 187,500 cooking fires in residential buildings. Cooking was, by far, the leading cause of all residential building fires and injuries.
Fresno fire says use the correct sized cooking vessel. Your bird should easily fit inside. Do not overfill your pot with oil. Place the bird in an empty pot and cover with water. Remove the turkey and mark the water level. Use that mark to determine the level of oil.
MORE TIPS:
Cook outdoors or in a wide open place.
Children and pets should stay out of the area
Wear pants, gloves, close-toed shoes, and long sleeves when cooking.
Cook the turkey in a safe area and on stable ground where it can't tip over.
Make sure the oil in your cooker is not displaced by the weight of the turkey so it doesn't overflow and become a hazard.
Keep a fire extinguisher nearby and make sure it is "Class B" rated for flammable liquid fires.
Do not use water to put out an oil fire.
Once the fire is lit, do not leave the fryer unattended.
Use a fryer thermometer to maintain the proper oil temperature. If the oil is too hot, turn off the flame.
Make sure your turkey is completely thawed and dry.
Fresno Fire says in the event of a fire, DO NOT USE WATER to attempt to extinguish it. Call 911.