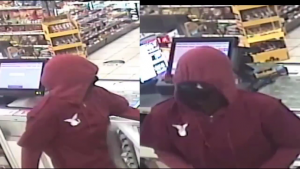 Detectives are looking for a woman suspected of robbing several convenience stores in Fresno.
According to Fresno PD, a woman armed with a large knife robbed the 7-Eleven on Herndon and Milburn on Thursday, Sept. 2, around 1:30 a.m. Officers say the same woman returned to the store two days later and did the same thing. This time, police say, she told the clerk she had a firearm.
Officers say she then made her way down the street to the AM/PM and robbed that location as well around 2:09 a.m.
Fresno Police say anyone with information regarding the suspect is asked to contact detectives at 559-621-2080 or Valley Crime Stoppers at 559-498-STOP.
by Peter Lopez/KMPH FOX 26