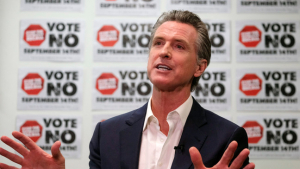 UPDATE: California voters reject effort to remove Democratic Gov. Gavin Newsom from office in recall election. #AP race call at 8:46 p.m. 
Conservative radio host Larry Elder is ahead of all other GOP candidates with 1,402,365 41.48% at 8:26 p.m.
Voters are being asked two questions: Should Newsom be recalled, yes or no, and, if he is ousted, who should replace him?
The results of the second question are irrelevant if a majority of voters support retaining Newsom.
If Newsom is recalled, the candidate with the most vote wins.
by Stephen Hawkins /KMPH FOX 26