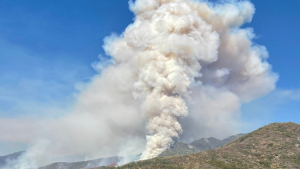 The fire is actively burning in dense dry fuels in steep inaccessible terrain.
The Windy Fire started on Thursday, Sept. 9.
California Interagency Incident Management Team 11 assumed management of the fire for the Tribe and the Forest on Sunday.
The fire is expected to continue to spread through the dry, drought-stricken fuels and has already impacted the Giant Sequoia National Monument and burned into the Peyrone Sequoia grove.
The fire is also threatening cultural and historical sites, cabins, campgrounds, and sensitive species habitats.
The Windy Fire is 4 miles from the community of Ponderosa, 5 miles from Johnsondale, and 6 miles from Camp Nelson.
Local residents are being told to continue to monitor fire progress.
Additional operational resources have been requested for this is a full suppression fire.
Forest Closure in Effect
The USDA Forest Service Pacific Southwest Region has announced a temporary closure of nine National Forests for public and firefighter safety. This includes the Sequoia National Forest.
This closure will be effective through September 17, 2021, at 11:59 p.m., and may be reassessed as conditions change.
The full closure order and closure map are available at https://go.usa.gov/xF7EM
by Stephen Hawkins KMPH/FOX26