Fresno Fire is mopping up and investigating a 3-alarm house blaze in northwest Fresno.  More than 50 firefighters responded to the blaze – that broke out in a duplex – north of Herndon and Van Ness.  The fire began in the attic of one unit of the duplex. That unit was destroyed, while the other unit of the duplex was saved because of a fire wall.
Fresno Fire says the homeowner estimated the damage to the unit was about $550,000.  But they also owned fine art and other collectibles worth more than $600,000.  The unit and the collectibles were destroyed.
However, no one was injured in the blaze. The residents were home at the time, but left the unit when they smelled smoke.
This is the fourth major fire Fresno Fire responded to on Tuesday.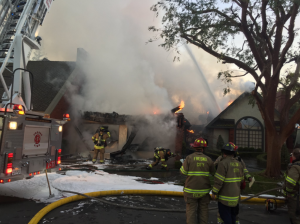 (Photo: KMPH)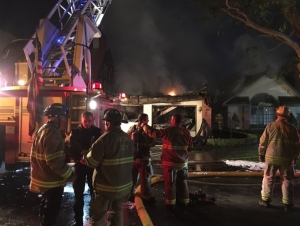 (Photo: Fresno Fire)