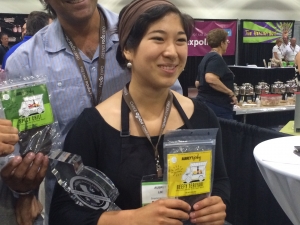 FRESNO, CA (KMJ) –  In a bit of a surprise – especially to the winner – Fresno State student Aubrey Lim took home the Fresno Food Expo's coveted Buyer's Choice "New Product Award" on Thursday afternoon.
Lim, who is heading into her junior year at Fresno State, thought up her beef heart jerky two years ago. At last year's expo, she teamed up with SnackMasters Gourmet Jerky to develop "Aubrey's Jerky".
"[SnackMasters] is the one who helped me with my first two flavors and are manufacturing [the jerky] for me," says Lim.  "I'm in their booth. They're the reason why I'm here.  So yeah, I'm very excited."
Aubrey's Jerky is currently made in teriyaki and spicy flavors.