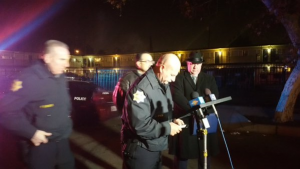 December 30, 2015: (KMJ) FRESNO, Calif. –Two Fresno Police officers are on administrative leave after a shooting earlier this morning, in Central Fresno.
Police say around 1:30a.m. Wednesday morning, a number of 9-11 calls came in that a man was beating a woman.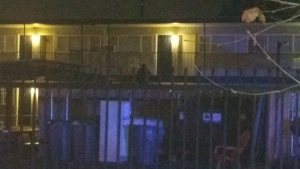 Officers arrived at the California Hotel on Weber and heard the woman scream in Room 36 on the second floor.
Chief Jerry Dyer says the officers broke out a window to see a Hispanic male with a knife and blood on him, and the victim on the floor.
"Officers made a decision to force entry into the room – fearing that the female was in the process of being stabbed, one officer used a beanbag shot gun which had little effect, the two other officers immediately fired their handgun at the suspect." Fresno Police Chief Jerry Dyer.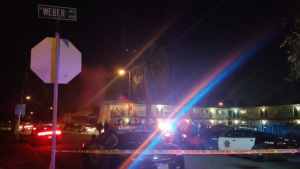 Police Chief Dyer says the 55 year-old suspect, who was killed, had an extensive history of violence, and terrorist threats.
The woman was taken to Community Regional Medical Center in stable condition.
She was stabbed 13 times in the back and chest – Chief Dyer says she most likely would have died if they didn't intervene.
Two officers on scene were wearing body cameras, which is helping police in their investigation.
The officers who fired their weapons are on paid administrative leave during the investigation.