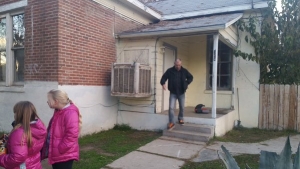 UPDATE: KMJ Listeners responded to this story and so we have provided a link to help WIlson Odom and his family:  gofundme.com/xjcqqdrs  His home's electricity was about to be shut off because his state disability check was late, and generous people stepped in to pay his bill and tide him over until the check arrived.
(KMJ) – December 1, 2015: The only car of a Tulare family is stolen – but a generous KMJ listener has donated a car – in a very special Christmas gift.
Glynn Ward and her family heard the sad story on the KMJ Morning News.
Hosts Matt Otstot and Blake Taylor told of a South Valley family whose car was stolen right in front of their Tulare home in broad daylight, on Saturday morning (November 29th).
Wilson Odom had a single SUV – for his wife, and the seven children and grandchildren.
The stolen Dodge Durango was their only means of transportation, and the only way for him to get to Fresno and Porterville for his treatments to treat the cancer that had spread into his lymph nodes, and the lump that threatens his chest.
His story touched Glynn Ward's heart.
Her family had just bought a new car and rather than sell it – they though; "Why not?" and decided instead to donate the car to the Odom Family.
She brought the keys to KMJ to pass on to the family- a 2003 Toyota to get them through their ordeal.
KMJ's news reporter Liz Kern and Chris Daniel Talk Show producer Philip Teresi drove the car to Tulare, in a caravan with KMPH Fox 26 to hand off the generous gift.
A very emotional Wilson Odom took the keys, tears streaming down his cheeks.
He was overwhelmed and choked on his words as he spoke.
He said he knew there was a reason for this, he had faith and Jesus would take care of it.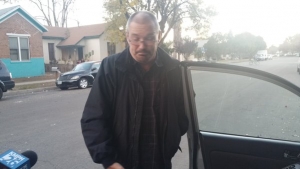 When Wilson received the keys, he thanked the Ward Family for what they did, and KMJ and KMPH Fox 26 for sharing the story…and he said "this was the reason."